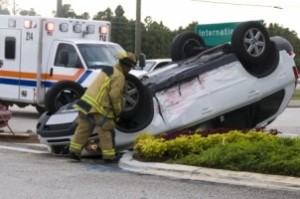 Vancouver, Washington chiropractor Dr. Troy Dreiling explains why it's important that you continue with chiropractic preventative maintenance after a car accident injury even if you're feeling fine.
We offer a free consultation, so you can decide whether chiropractic care is suitable for you. Call us to schedule your visit!
---
Video Transcription: Why Continue With Chiropractic Care After Auto Accident Injury
Dr. Troy here at Zenaptic Chiropractic.
After 21 years of practice, I get a lot of questions from patients asking why they should continue preventative wellness checkups from my chiropractic office after they have resolved their injuries from a motor vehicle accident.
That's a great question because a lot of people say, "Hey, I feel fine and I don't have any pain."
You have to remember what got you to that point.
It was regular adjustments, massages and some rehab things that we do. We found that if some people stop doing what got them well, the problems will return.
Chronic Pain After An Auto Accident Injury
Research shows that 70 to 80% of patients who are involved in a motor vehicle collision will experience some sort of chronic pain ten years later from that accident, even though they may have had care.
That's why we recommend even once a month, once a week adjustments.
Just get checked to see if the joints are functioning right. Are the joints moving right? Are there restrictions in your range of motion? Is there inflammation or nerve root irritation? Are the biomechanics being thrown off?
Once the spine stabilizes from an injury, you have weakened areas and scar tissue is potentially formed in those areas, so they're going to be less flexible.
They are not going to be as strong, they are going to be weaker. You're going to have a better chance of flaring up your spine and nerve system just with regular activities like sitting, driving, and working.
People say, "I used to work ten hours a day and since the accident, I can only work four hours a day without having to take some sort of pain medication or do some sort of therapy."
We always encourage people to maintain their spine through regular chiropractic treatments that help them stay on track and live a more pain-free active life; that's what we all deserve.
One of the really cool things about our office is we make care affordable so that you can get regular adjustments whether you have insurance or not.
Everyone says, "How long do adjustments take?" We tell people they are in and out within five to ten minutes for preventative adjustments.
And it's your choice if you want to use chiropractic for maintenance throughout your entire lifetime, we are here to support and encourage you on staying healthy and staying on track.
Summary
I always recommend staying adjusted regularly to prevent flare-ups and if you have a flare-up again, get in right away.
Let's get you checked and functioning; get you feeling better, so that you can enjoy the high-quality life that I know you're entitled to.
If you need some help, you want some advice, free consultation.
This is Dr. Troy, Zenaptic Chiropractic.