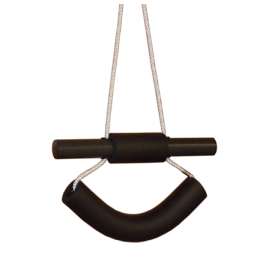 $75.00
The Cervical Traction is used for loading and unloading to reestablish necessary motion in both the cervical and lumbar spine.
The handle bar should be at shoulder height for the Standard Traction. Tall patients should tie a knot in the rope for proper positioning at home.
Watch a VIDEO of Dr. Troy demonstrating how to use the cervical traction device.
Product features:
Lightweight and easy to use anywhere and is painless.
Helps decrease compressive forces in the neck (which helps take pressure off the discs that are between the vertebrae in the neck)
Opens up spaces where nerves exit the spinal canal.
Stretches muscles and joints structures around neck.
Call us to order or complete the online form on this page.