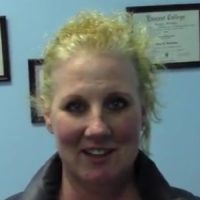 Jaque's Review – I would tell just about anybody to go get chiropractic for all kinds of stuff!
Q: What kind of pain were you having when you first started seeing Dr. Troy?
A: Let's see. Severe pain  in my back, neck and my shoulder
Q: How has chiropractic care helped?
A: It's helped a lot. It got rid of the headaches that I have from all the pain and I feel like I function better and sleep better.
Q: Awesome. What do you tell  your friends about chiropractic treatment?
A:  Well, I've referred several to come see Dr. Troy.  I would tell just about anybody to go get chiropractic for all kinds of stuff