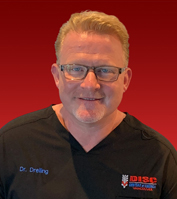 Dr. Dreiling has been providing chiropractic services to the Vancouver / Portland Metropolitan area and the families living there, for well over 23 years. The basis of his service is a caring heart and wanting to see that people in pain –  especially avoidable pain – can live the kind of life they envision for themselves by getting the care they need.
While Dr. Troy and his team at Zenaptic Chiropractic offer the full spectrum of chiropractic services, the good doctor also specializes in helping victims of auto accidents recover and rebuild from the minimal-to-major spinal and overall body trauma they have suffered, due to whiplash and other accident-induced stress.
Supporting the Community –
His commitment to community health, which is underlined by being voted "Best in Clark County" by the Columbian Newspaper Readers and the Clark County Chamber of Commerce 5 times now (2009, 2011, 2012, 2013 and 2014) and he is and remains a staunch believer in community involvement.
His actions speak for themselves – Dr. Dreiling has raised over $20,000 for charitable causes and has given away over $400,000 worth of services. Events included hosting an annual Kids Day America, promoting health, safety, and environmental awareness for the children in the community.
Beyond the local community, he has expanded his caring reach to open three chiropractic clinics in Romania and served on a Panama mission team, reflecting an overall adjustment of close to 1,000,000 people.
A former bodybuilder, Dr. Troy Dreiling also served as the team chiropractor for the State Champion Evergreen High School football team. He served on the team the was entrusted to take care of USA Judo, USA Weightlifting, USA Volleyball and USA Soccer.
Dr. Troy was also part of the group that took care of the Colorado Rapids Soccer team when they won the MLS championship. Several organizations know they can count on him, including the YMCA, YWCA, ARC Innovative Services, Options 360 pregnancy resource center, Salvation Army, Make a Wish, Pregnancy Resource Center, Life West Chiropractic College research, Portland Zoo, Wichoni International, Mt Hood Ski Patrol, Humane Society, Portland Rescue Mission and local schools.
The relationship between activity and health builds out the foundation of Dr. Troy Dreiling's practice and why he does what he does in the way he does it. Because he thoroughly believes a healthy lifestyle is an undeniable component to one's health, his ongoing mission is to serve as many people as possible with natural, safe, and effective solutions to achieve the body's optimal state of being.
To reach that standard, he seeks to provide superior education – inspiring others to create a healthier "you", community, and planet. In order to accomplish that task, he has created and maintains monthly advanced in-office talks, meaningful and educational weekly blog articles and self-home care presentations. His radio show, "Today's Health -Absolute Life Radio" on KPDQ 93.9 FM and 104.1 FM , The Fish, inspires families to keep making healthy choices.
His daily enthusiasm and that of his team, for a healthy lifestyle are the keystones to Dr. Dreiling's commitment to his patients and promoting a healthy lifestyle. These are reflected and showcased by his being a great chiropractor whose concern and friendship are offered to every patient that steps through the door.