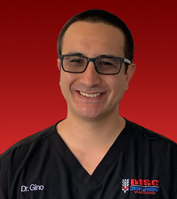 Hello –
As the new member of the professional team at Vancouver Disc Center of America, I wanted to take this opportunity to introduce myself.
My name is Gino Pascual D.C, and I graduated from Life Chiropractic College West in 2019. As a new member of Dr. Troy's staff at DCOA, Vancouver, I have been serving both new and regular patients in the clinic since May of 2021. I love getting to know and serve those individuals seeking chiropractic and wellness support in their march towards better health. Dr. Troy has built a well-trained and professional medical team and I am glad to be part of it.
I am extremely drawn to, and appreciative of, working in and learning more about the wellness side of chiropractic, mainly because I started out as a wellness patient myself. When I was introduced to my first adjustment I was not aware of any aches, pain, or injuries, so I had no idea of what to expect or anything to compare it to. However, after receiving only a few adjustments I started to notice I was sleeping better, had more energy, was more flexible, my posture was improving, and it felt like I was moving more smoothly.
I quickly saw firsthand the benefits of getting adjusted – mainly in the impact on my performance as an athlete because I was very active in playing basketball and soccer.  The chiropractic adjustments not only improved my immediate 'game', but also helped me continue playing these sports with far less injury or stress to my body. This first-hand experience was a major factor in causing me to want to share my chiropractic experiences with other people – I also felt a great desire for helping people do and enjoy the activities they love to do.
Now, in my chiropractic journey as a trained medical professional, I have learned a basic, but very important fact: that in order to get people to the functional/wellness side of chiropractic, you often have to get them past the pain cycle. One of my personal joys is seeing someone who has had a complaint such as neck pain or low back pain, who later on after treatment begin talking about how they are now able to return to the activities they love such as going to the gym for a workout. I find it very rewarding and personally satisfying when I hear patients tell me that they are performing their activities with more ease and less pain, and seeing them leave the office with a smile on their face.
Before I trained and studied to become a chiropractor I had a few other jobs that actually helped me on my way to becoming more caring of people and wanting to help them. Some of the jobs I enjoyed the most in which I interacted with people, was that of being a swim instructor/ life guard, working with special needs groups, as well as coaching kids how to throw shot put and discus.
During my time as a swim instructor, I taught people of all ages, which included kids as young as two, up to and including adults. I was also active in teaching people with special needs how to swim. Along with coaching Special Olympics bowling, I also coached middle school aged children and high school athletic students how to throw shot-put and discus. I enjoyed doing all of these jobs because seeing people improve their skills in the activities they were involved in, especially when they had started with little to no skills, was especially fulfilling for me.
Growing up I was fairly athletic, having played soccer, basketball, ran cross country, and was a decathlete for track and field. In my undergrad I signed up for, and enjoyed the discipline – both mental and bodily – of few martial arts classes in Judo, TKD, and Hapkido. Because I really enjoyed playing and competing in these activities, I found the associated injuries, such as ankle sprains to be very annoying, especially if it limited my ability to compete.
These are just some of the experiences and reasons in my life that led me to want to help others find solutions when they are not be able to do the activities they like. I wanted to be involved in a career which allowed me to actually help people continue doing activities they love through effective regimens and body-maintenance therapies like those found in chiropractic. One of the first steps I took was that of acquiring a bachelor's degree in Kinesiology (the scientific study of body movement) with the end-result of becoming involved in physical therapy programs. Luckily I heard I could also treat wellness patients in addition to patients that are hurt and injured (Wellness Program: a comprehensive health initiative designed to maintain or improve well-being through proper diet, exercise, stress management, and illness prevention). After hearing that, I entered into Life West's Chiropractic program and upon graduating, continue to be very happy with the decision I made.
I sincerely look forward to serving the Vancouver and surrounding community. For a comprehensive list of the services Dr. Troy, myself and the medical professionals provide here at Vancouver disc Centers of America, I encourage you to visit the website or call us for a consultation.