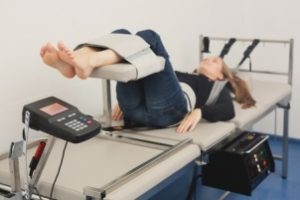 Spinal decompression therapy is a great alternative to surgery. It helps with a number of ailments that lead to back pain, including bulging discs, herniated discs, sciatica, and more.
To see if spinal decompression therapy can help you call (360) 260-6903.
---
Many people who experience chronic and debilitating back pain fail to realize there are effective and proven therapies that can successfully help patients reduce pain and lead a normal, healthy life without relying on pain medication or surgery. Spinal Decompression is a therapeutic remedy that involves stretching the spine in order to relieve back and leg pain.
The theory behind spinal decompression is really quite simple. Gently and systematically applying traction to the patient's spine creates negative pressure on the vertebrae.  The resulting intradiscal space helps to reposition a herniated or bulging disc that is often the source of back pain. The negative pressure also promotes the introduction of natural, nutrient-rich fluids into the damaged area, thereby inducing healing.
Spinal decompression can be effective at treating a number of ailments that lead to back pain, including bulging discs, herniated discs, pinched nerves, sciatica, radiating arm pain, degenerative disc disease, leg pain, and facet syndrome (http://www.americanspinal.com/non-surgical-spinal-decompression.html). Additionally, having a healthy spine helps to prevent other serious conditions, such as chronic migraines, jaw pain, sleep disorders, and spinal stenosis, which is the narrowing of the spinal column.
Though the description of spinal decompression may make it seem extremely intrusive, the treatment is actually relatively painless (excepting the pain a patient is already suffering). The space created between the vertebrae is minuscule scope, just enough to stimulate the body's natural healing process. With repeated treatments, the accumulative effect can lead to significantly lower pain levels and the return of strength and mobility.
Studies indicate the treatment is effective. Dr. John Leslie, a researcher at the Mayo Clinic, found non-surgical spinal decompression was 88.9% effective when tested on patients who had been suffering chronic back pain for an average of 10 years. It only took two weeks of treatment to achieve a 50% reduction in pain.
Spinal decompression is performed using a machine, such as the DRX9000, that regulates the traction and relaxation of the spine in a methodical manner. The recommended regimen will vary depending upon the patient. You should always consult with an experienced chiropractor, who will work with you to identify the source of your pain and devise a method of treatment.
A typical session lasts under 30 minutes and patients might require as many as 30 sessions or more. This is because the treatment must be gentle and gradual so as to allow the spine to adapt. It is not uncommon for patients to report a noticeable improvement after as few as 3 sessions. Patients with a bulging or herniated disc may require only 20 sessions to make a full recovery, while those who are suffering from degenerative disc disease or other chronic disorders may need ongoing treatment to slow the effects and combat the pain.
Spinal decompression has proven successful for patients suffering from all manner of ailments, including the following:
Herniated or bulging discs
Chronic pain following back surgery
Degenerative disc or joint disease
Nerve compression or lumbar disorders
Sciatic neuralgia
Injuries to the lumbar nerve root
Spinal arthritis
Myofasctois syndrome or disuse atrophy
If you are considering back surgery, it is strongly recommended that you try spinal decompression first, as it is vastly preferable to an intrusive procedure such as surgery. Those who choose not to undergo decompression often find that the only other recourse is surgery, or to live with chronic pain. Failure to treat back ailments all together can lead to more serious conditions.
For example, chronic pain can cause patients to reduce their exercise and physical activity to the point where they begin suffering from disuse syndrome. Lack of mobility can result in musculoskeletal, cardiovascular, neurological, psychological, and emotional disorders. Don't wait! The longer a chronic affliction is left untreated, the more severe it's likely to become.
Many patients have found success with spinal decompression therapy, allowing them to resume normal activities without requiring surgery. For example:
From Spine Health (https://www.spine-health.com/treatment/chiropractic/spinal-decompression-back-pain-relief-patients-advice-part-ii)
I had two herniated discs at the lowest two levels. I tried PT…which made me worse; epidurals, which had no effect; and muscle relaxers. Nothing helped. My Ortho suggested I see a Chiropractor who specialized in spinal decompression therapy. Within two weeks I was 90% better. I don't know whom I love more, my Chiropractor or my Orthopedic doctor who recommended the spinal decompression. This was a lifesaver for me. It lasted 5 weeks and cost 4500. Would have paid double, as it kept me from surgery. Highly recommended. From: Jim – Georgia, USA
 From Goss Chiropractic (http://www.gosschiro.com/spinal-decompression-testimonials/)
I had pinched nerves as well as four bulging and herniated discs. I couldn't walk, put my socks on, wash my own feet, drive myself, or even relax on the couch without being in pain. I tried physical therapy, three different injections, drugs, and a disk fusion. Nothing seemed to help. My brother referred me here, and I was desperate to try spinal decompression. After some of the spinal decompression treatments, I am able to do all the activities I wasn't able to do before. From Dave – Michigan, USA
Living with back pain can be debilitating. The good news is that nearly 90% of patients will benefit from spinal decompression, with good results or better. Contact us today to schedule a free consultation, where we'll learn about your specific condition and work with you to formulate a long-term treatment plan. In addition to the decompression therapy, our experienced and professional chiropractors will consult with you on an overall wellness approach to help put an end to your back problems.