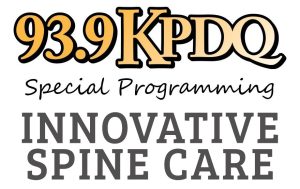 Specialized Spinal Disc Treatment –
Innovative Spine Care with Dr. Troy on 93.9 KPDQ #33
Mike Lee:
Welcome to Innovative Spine Care with Dr. Troy on 93.9 KPDQ. I'm Mike Lee with our very special guest expert Dr. Troy M. Dreiling, Dr. Of Chiropractic. He now serves as president of the International Disc Education Association here in a masterclass certificate on non-surgical spinal decompression and is triple certified in it. Disc Centers of America. Vancouver is located at 3021 NE 72nd Drive, Suite 15 in Vancouver, Washington, and that's just south of Fourth Plain Boulevard. Give them a call at (360) 727-0455. That's (360) 727-0455. You can even chat live with an expert from Vancouver Disc Center at the website VancouverDiscCenter.com. And that's spelled Vancouver, VancouverDiscCenter.com. Dr. Troy, can you tell us what exactly is specialized disc treatment?
Dr. Troy:
Yeah, Mike, that's a really good question. You know, uh, one of my specialties is treating discs that are bulged, herniated, uh, disc tear, spinal stenosis, degenerative disc, and joint disease. That's kind of been my specialty for the last 10 years. You know, I've been at practice 28 years and 10 years ago I herniated three discs and tore two of them. And, I found spinal decompression was the only thing that gave me relief. And so that's what we've been specializing in the last 10 years at Vancouver Disc Centers of America. And it's interesting, if you look at the stats, 80% of adults will have at least one episode of low back pain in their lifetime. And if not treated properly, many of these things can become chronic. I can't tell you how many times I see people who have been suffering 5, 10, 15, 20 years and they're looking for an alternative to the traditional medical approach to managing back pain.
Mike Lee:
So how complicated are disc herniations, Dr. Troy? Yeah, you know, it's not a straightforward thing, it's multifactoral. There's a lot that goes into disc herniations. So typically it's gonna be related to the degenerative process, as we call it, mechanical failure. One of my colleagues, Dr. Zuck, he's an orthopedic surgeon in New Jersey, says the mechanical expiration date of people's joints is expiring quicker than it used to. And one of the reasons is that we're living longer. So, you know, the longer you drive on a pair of tires on your car, the more it's gonna wear out. Same thing with our bodies. So, and it's also related to external injuries and a lot of people don't really think that it's, you know, was it a car accident? Was it slip and fall? But a lot of these external injuries, things like repetitive bending, stretching, over stretching.
Dr. Troy:
I'll tell you, I went to one of my landscaper patients office one time and his desk was angled at like a 60-degree angle, and his chair was straight ahead. So when I went to see him, he was twisted in his chair and he's been experiencing neck and shoulder pain, and back pain. I said, Man, you gotta get your spine straight. So rotational types of movements, repetitive rotational movements. Like if you look at Tiger Woods, he's had five back surgeries and he looks at all the rotation he does and of course, bad posture. People always ask me, Could this be related to bad posture? And it's multifaceted. So there's a multitude of things that can go into causing discs to break down, causing nerves to get compressed, and causing people to have low back pain or neck pain or tingling numbness in extremities, whether it's an arm or a leg or into their feet or their hands.
Mike Lee:
Dr. Troy, what are the conservative treatments offered by medical doctors?
Dr. Troy:
Conservative treatment by most MDs usually consists of medication and exercise. They'll, they'll look at physical and rehab methods and one of the most widely used therapies is traction-type therapy.
Mike Lee:
So how does traction therapy work, Dr. Troy?
Dr. Troy:
So what traction therapy does is it decreases the pressure that's caused by gravity. So when gravity pushes us down, things get compressed in the spine. The joints, the nerves, and what traction therapy does, it creates gentle spine separation of the discs and the joints. And some of the research is showing you can open up the hole that the nerves in that go into extremities by up to 30%. You can increase disc height anywhere from 10 to 30%. Uh, and that's usually enough to give people relief. So what that does is it creates a negative pressure or a vacuum in the disc, which causes the disc to rehydrate, it causes it to bring in nutrients, it helps bring in blood and it helps flush out the chemicals, the inflammation that causes the pain and reduces pressure on the nerve root. And the spinal cord.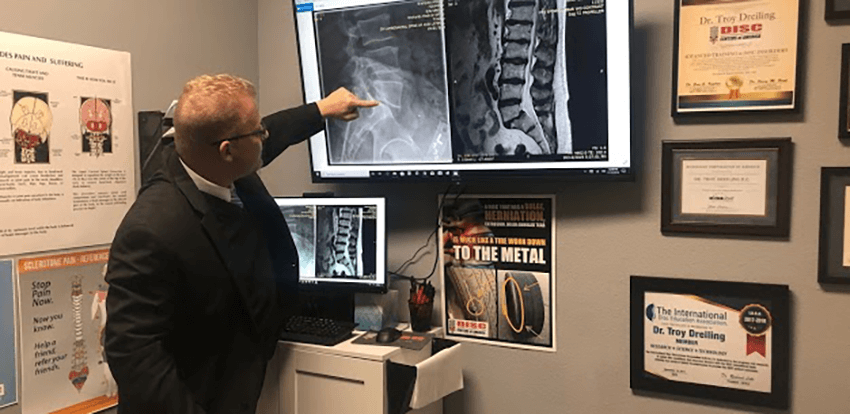 Schedule a consultation TODAY with Dr. Troy!
Mike Lee:
It sounds like DISC Centers of America is starting a new standard for disc treatment.
Dr. Troy:
You know, Sheely/Bergmeyer, these are two medical doctors, who did a study and they found that 86% of ruptured intervertebral discs had good to excellent results with traction therapy. We call it IDD (intervertebral differential dynamics). There are different ways to call it. We also call it spinal decompression, but depending on the author that writes papers and research, they'll call it different things. But it's a form of traction that that drops disc pressure. So we can target a specific disc in the cervical spine, the neck, or in the lumbar spine to drop the disc pressure to bring in nutrients to the disc to help oxygenate that area so that people can get relief. And the long-term studies of spinal decompression were pretty amazing. Boxel and Martin, did a study and he says the discs have the ability to repair themself.
Dr. Troy:
And that's what we're seeing in our treatment with people, is that the disc can repair itself if you do the right things, and not go out and do these repetitive activities. Bending, stretching, over-rotating, bad posture. If we can get people to change and modify some of their behavior patterns, we're seeing really good results with spinal decompression. And, you know, there's a difference between being just sore and then having back pain that's debilitating. Cause a lot of, you know, as we get older we tend to be more sore, at least if we're active. But we're talking about debilitating back pain where people can't roll over in bed, they can't pick up their kids, they can't tie their shoes and, you know, it affects their quality of life.
Mike Lee:
Dr. Troy, I know that many people who suffer a back pain episode actually start in the ER for treatment. So could you walk our listeners through what exactly happens with this approach when you go to the emergency room?
Dr. Troy:
Yeah, that's a really good question. You know, a lot of people, they're scared. Back pain, if it's debilitating, it'll take you down. I've seen so many people who suffer from this, but a lot of our patients, you know, they'll say, "Yeah, I went to the ER" and I'll ask him, you know, what did they do? And typically they're gonna give 'em some sort of medication or a shot, which is typically is gonna give them maybe temporary relief. A lot of patients will tell me they didn't get any relief. And if you don't treat the disc specifically, because what you're doing is you're just treating the effect of the symptom if you give him some medication or shot. So if you don't treat the disc specifically, then these problems can continue to linger. And, you know, if, if the medication doesn't work, if you stay in that medical model, then sometimes they'll go in and cut tissues, they'll trim discs with the hope to get the pressure off the nerve.
Dr. Troy:
But in my training, if you just, if you cut a disc, you're not really repairing the disc, you're just removing parts out of the body. And I've seen this happen many times where people might have a, they call it a discectomy where they remove some of the discs. It may or may not give them relief. And if that doesn't work, the next thing is to do a laminectomy, which is where they remove part of the vertebra with the hope of decreasing pressure on the spinal cord and nerve roots. Again, if it's a disc issue and you do that, you're really not treating the specific disc problem. And then if laminectomies don't work, then they do fusions. And so many times if people have gone down the discectomy route, the laminectomy route, or the fusion route, they may have had 2, 3, or 4 surgeries. There's a point when the doctors will say, there's nothing we can do for you.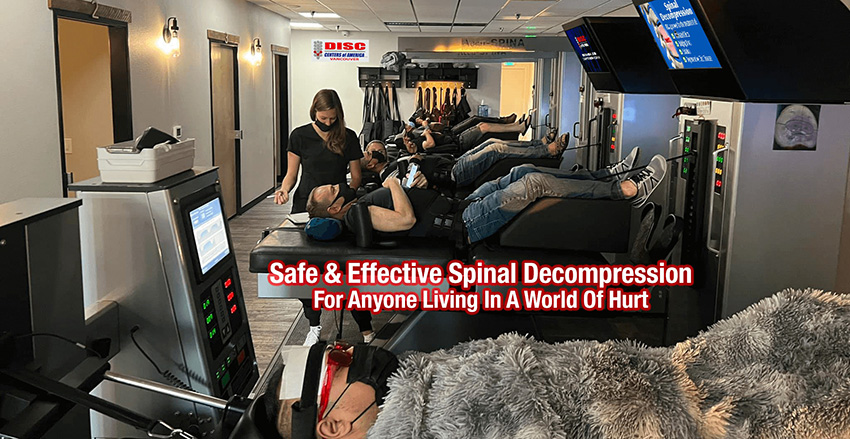 Dr. Troy:
And I hear patients come to me all the time who are suffering. That said, the doctor told me there's nothing else they can do. And I agree with them, I go, They're right. There's nothing else they can do. Because the typical approach is medication, maybe some exercise, and then surgery. And studies show this is why a lot of people come to us and say, I don't wanna have back surgery. Studies show that 10 to 74% of back surgeries fail. And Dr. Steven Atlas, reported very few people to have no pain following surgeries. He says that relief may last only a few years before the condition worsens. And I see this all the time because when you're doing the surgical procedure, removing tissue, scraping, you're really not getting to the root cause of the problem. And with Disc Centers of America, it's amazing to be part of this. I don't know if I told you this Mike, but they just, uh, they just named me the President of the International Disk Education Association. So I've been tasked with, uh, looking up research and sending it to our clinics. We have 191 clinics in 39 states, and we see results that are nothing short of amazing every day in our office.
Mike Lee:
That's fantastic. Dr. Troy. Well congratulations, Mr. President
Dr. Troy:
(laugh). All right, thanks, Mike. I appreciate it. You know, uh, my good buddy, Dr. Laura, he's a colleague of mine. He's president of the DISC Association, uh, for the last 10 years and he recently passed away. So it's kind of an honor to, uh, fill his shoes. And I've been tasked with helping our doctors with DISC Centers of America get more research around to our groups so that we can get results that most of us see clinically.
Mike Lee:
Well, that's wonderful. Dr. Troy, do you have any real-life cases that you've had recently at Vancouver Disc Center?
Dr. Troy:
I had a lady, who came to us two years ago. She had a lumbar laminectomy fusion, that's where they fused sections in her spine, experiencing back pain, leg pain, and neuropathy-type symptoms in her feet. And pain levels were nine out of 10 when she started. And we got her down to zero to one, and then she recently flared herself up, and came back to see us. She had seen three or four other doctors in Idaho and nobody could help her with the pain she was experiencing. She called her sister up and said, Hey, can I come back and live with you for a month or two so I can get treated at Vancouver Disc Center? And she started just recently. She's doing better. She's happy that she's back under care, and I'm thankful that, that she came back to see us. Now we're seeing good results again. And, uh, it's lovely to see people get the results and relief that they're looking for
Mike Lee:
Any real-life cases. Dr. Troy?
Dr. Troy:
Yeah, uh, Mike, I recently had a plumber come see me. Uh, he was experiencing back pain, and leg pain. He's having a tough time doing his plumbing job. Eight years ago, he was experiencing back pain with leg pain and he went in for a discectomy where they trim part of the disc. And I asked him, How'd that go? He said it went okay for about two weeks. I went back to work. I was doing some plumbing and I heard this, this popping noise in my low back, and that pain's worse now than it's ever been. And he, he dealt with it Mike for eight years. So, he had two weeks of relief, and then he didn't know what to do for eight years until he found us. I believe he heard us on the radio and now within two weeks, he's doing better. I feel bad for him. He suffered for eight years. So I'm very thankful that if we reach out to people like this and we're able to help him.
Mike Lee:
Dr. Troy, if someone had a recent MRI and is looking for a conservative approach to treating disc issues, how do they get in to see you for consultation at Vancouver Disc Center?
Dr. Troy:
Well, what we need to do is they need to call us and my team will get you in for a consultation so we can meet with you to look at history, and see what's going on. If you have imaging, spine imaging, whether it's a CT or MRI X-ray, if they're recent, bring it to your appointment. That way we can review 'em together. I'll tell you what I see and I'll let you know if you're a candidate for our cutting-edge technology with spinal decompression.
Mike Lee:
That's pretty cool. Yeah,
Dr. Troy:
That's kind of cool.
Mike Lee:
The next five callers at 360-727-0455 will get an opportunity to come into Vancouver Disc Center for just $29, and get a spinal decompression screening, including a review of your existing MRI or other spine imaging. A review of your current health state to determine if you are a qualified candidate for their cutting-edge technologies, offered us $29. If you call now and pay via check or credit card to reserve your spot.
Call 360-727-0455 to schedule if you are suffering from herniated discs, sciatica, low back pain, spinal stenosis, neck pain, numbness, or tingling in your hands. Or if you know someone who is call 360-727-0455 or you can even chat live with them on the website, vancouverdisccenter.com.
That's vancouverdisccenter.com.
Dr. Troy, thanks so much for improving our lives.
Announcer:
Disc Centers of America. Call us can change your life.