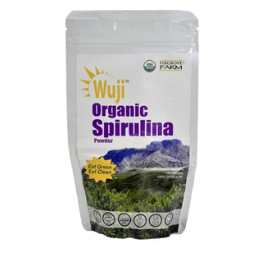 Single item pricing and bulk discount pricing below.
1 pkg – $40
3 pkgs – $75
6 pkgs – $129
Organic Spirulina it is a naturally occurring cyanobacteria and very similar to alga.
Spirulina is a pure, green, organic, whole food.
Benefits of spirulina include:
Spirulina is a complete protein containing all of the essential amino acids. It contains essential fatty acids, with an unusually high amount of the fatty acid, gamma-linolenic acid (GLA).
Contains an array of vitamins and minerals your body needs to be healthy.
Spirulina being a whole, pure, organic, food, containing an incredible amount of nutrients your body requires to function properly helps to:

Support Brain Function
Helps Curve Appetite
Aids Blood Sugar Levels
Support Immune System
Promote Alkalinity
Improve Overall Nutrition
Promotes Cardiovascular Health
Helps Decrease Allergies
Call us to order or complete the online form on this page.
Special Bulk pricing is available. Shipping price applies.