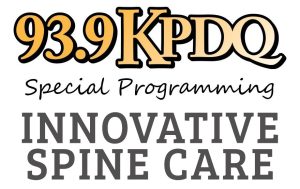 Bob Fisher:
My mother died of an aneurysm and ever since I had my car accident was in my twenties. I've always had a pain in the right side of my head, and that's how she died. She had an aneurysm on the right side of her head, so I thought I had one. So I went for an MRI. They found no aneurysm and told me I had a pinched nerve in my neck. So, you know, I figured I'd try the decompression. So I did the decompression for my neck and the pain's gone.
Mike Lee:
Welcome to Innovative Spine Care with Dr. Troy on 93.9 K Q. This is Mike Lee with special guest expert Dr. Troy M. Dreiling, Doctor of Chiropractic, who serves as vice president of the International Disc Education Association with a masterclass certificate on nonsurgical spinal decompression. And he's triple-certified in it! Disc Centers of America, Vancouver, is located at 3021 Northeast 72nd Drive, Suite 15 in Vancouver, Washington. And that's just south of Fourth Plain Boulevard.
Give him a call at (360) 727-0455. You can even chat live with an expert from Vancouver Disc Center at the website www.vancouverdisccenter.com. How are you doing today, Troy?
Dr. Troy:
Hey, I'm doing fantastic, Mike. Ready to talk about some results and relief.
Bob Fisher:
Okay. My name is Bob Fisher. And I am almost 62 years old. I was very active when in my early twenties I got rear-ended. I got hit hard, so the curvature of my neck became straight and I had pinched vertebrae in the bottom. So, I have been going to chiropractic my whole life, because I was always in pain. We were also looking for treatment for my wife, as she was also in pain.
We looked at spinal decompression and Sherry, my wife, also had her back looked at as she was also in pain. I was receiving decompression for my neck. My mother died of an aneurysm in the brain. And ever since I had my car accident which was in my twenties, I've always had pain in the right side of my head. And that's how she died – She had an aneurysm on the right side of her head – so I thought I had one. So, I went for an MRI.
They did not find an aneurysm but told me I had a pinched nerve in my neck. So, I figured I'd try the spinal decompression. After I had the decompression for my neck the pain is gone. You know, I play racket ball, I lift weights, I'm very active and it was great. My neck was feeling great so I said, How about let's do my back? Whenever I did anything around the house or I bent over, or I was, you know, changing a salt cell or something, I had really bad pain in my back and now, after spinal decompression, it's not there!
So, um, I'm almost done with treatment for my neck, and my back is done and I feel fantastic. I go to the gym three times a week for two hours, you know, every time I go. And it's kind of changed my life too because I feel, you know, I feel great and I don't have the pain.
And the pain is horrible. When you have pain, it's really bad. Both docs are great. They both alternate how they adjust me. They have different styles and they're both great. The staff is fantastic. I come in and I kid around with all the staff and it's like a social thing for me. I sometimes feel like I'm gonna get depressed <laugh> when it's over, and sometimes I've just come in and just say hi to them. But it's great, it's a great practice. We just referred someone else here. We went to the eye doctor and there was a lady that had some problems with her back, and we just referred several people over here. And what they're doing is a great thing for people that helped them, you know, getting rid of the pain. And I do not want to have surgery, because with surgery, what I found researching it, is when they fuse the bones, they put more stress on the bones, on the top and the bottom. And then you keep getting more and more surgery, until eventually, you know, you become immobile. So this (decompression) is fantastic.
Mike Lee:
Dr. Troy, Bob just shared his story today and he was suffering from an old neck injury. He was having headaches and he got helped through spinal decompression. Then he went in for low back treatment and now he's able to go back to the gym. Is this a common outcome that he reported, from treatment at Vancouver Disc and Spine Center?
Dr. Troy:
Yeah, you know, Mike, it's quite interesting because, I've found that people who tend to have disc issues in their neck, usually will show up with problems later in life in another part of their spine, or their lower back. So, it's very common to see that disc issues are more systemic, especially if the person is a physical type of guy like Bob, because as he mentioned, you know, he is very active, and this is what I see with people all the time who come into our office. They're active, or they have a physical labor job.
I just had a guy a couple of days ago come in, and he is a pipe fitter in his fifties now, and it looked like somebody took a blow torch to his spine, in the joints in the spine, and he was suffering big time. But it's very common to see people come in and get relief from their neck, and then they say, "Hey, do you think spinal decompression can help my low back"? And so we evaluate them for that, and we usually try to focus on the worst area first – because to get a disc to heal and get stable, it's a process. So we always want to start with the worst area first and then move on to the secondary area if they have one. But yes, it's common to see people with disc issues in their neck and their low back.
Mike Lee:
Dr. Troy, in his testimony, Bob was explaining how he referred his wife in for back pain and was also at another doctor's office and sent others to get spinal decompression help. Why do you think Bob was telling others about this treatment, Dr. Troy?
Dr. Troy:
Hey, that's a really good question. You know, it comes down to the motto in our office which is to get people results and get them the relief that they're looking for, without having them to take, you know, long-term medication or injections or even, uh, invasive surgical procedures. So, you know, I see this very commonly in our office. People get excited about their results. They've been suffering for months or years and a lot of people get their life back.
They get back to doing things that they want to do even though they might be getting older and they're slowing down a little bit, but they're still able to function and walk, and play golf, and play with their grandkids and, you know, walk on the beach with their shoes off. And so when people get excited about the results and they've tried other things, they just become enthused.
And it was nice that Bob sent his wife in for spinal decompression care and then, uh, you know, Bob saying he was at the eye doctor, and somebody was suffering there, and you know, he's a bird dog. He's out there telling people about the effects and the benefits of spinal decompression. And if you've got a back issue, we're highly trained in spinal biomechanics.
That means usually if somebody has back pain, it's mechanical. It's not because they're lacking a medication or a drug, it's because the mechanics of their spine are breaking down. And so that's really what we look for is to see if it a disc issue, is it a joint issue, or a nerve-muscle so that we can help restore function and get people results and get him some relief.
Mike Lee:
That's great. Dr. Troy recently another doctor referred a case to you. So could you share with our listeners how this patient is doing now?
Dr. Troy:
Yeah, you know, I'm seeing more and more people refer like especially, uh, within our medical community, to other healthcare providers. I was having a conversation with a patient, the other day whose doctor had recommended potential surgery. And so he went back for a follow-up visit with him, and he told the guy he was getting results and he said, You know, that's amazing.
He said I'm hearing more and more about this spinal decompression on how it's helping people. He's like, I need to send more people there. And in the last couple of weeks, we've been seeing even some of our healthcare professionals come into us, dentists, medical doctors, and nurses. And so, you know, when you have something conservative and you can help people get better, it's a great thing.
But this other guy, there's a doctor who, he had a patient present to him, about five, six months ago, and she was in a car accident. And usually, when you're in a car accident, you can suffer whiplash-type injuries and that's what happened with her. But what made it worse for her is she was turned when she got hit.
And so what that did, it herniated a disc in her neck. So, this doctor was working on it with her for about six or eight weeks and he knew about spinal decompression. Well, he spoke with her and said "You know what, what I'm doing is not helping". So, he sent her over for spinal decompression.
She had her MRI and we looked at it. We saw she's got a couple of herniated discs, and she's got a disc tear. She's been under care for almost two weeks now and she's doing better. You know, she's suffered for almost six months from this injury with no relief. And within a couple of weeks, we're starting to get her feeling better. So that's exciting to see other people trusting that we'll take care of people and we'll let them know if we can help them based on what we find.
Mike Lee:
I love hearing stories like this from you, Dr. Troy. So how can people get in to see you at Vancouver Disc Center for a consultation to see if decompression therapy can help them?
Dr. Troy:
The number one thing is to call our office and schedule a time to come see us. You know, we're pretty flexible. I tell my staff, get them in right away. I can't tell you how many times I've had patients say, that they can't get scheduled for three or four months or get an MRI for six months. And it's kind of sad, but I always tell my staff, I'm like, "We're here to serve people. Let's get them in as soon as possible."
And a lot of times people who are suffering from back issues might have gone to a general practice doctor. They might have had some imaging, whether it was an X-ray or a CT, or an MRI. I always tell them to gather their image and bring it in so I can see it. And I know I told you the story about my daughter being injured in Hawaii, We took her to the hospital, and she was on a board because they thought she broke something in her back.
So they did a CT and an MRI and the neurosurgeon called me and said, Everything's fine. And I said, "Give me a copy of the CD, I want to look at it". And so I looked at it, and she had an L-5 disc herniation and this neurosurgeon didn't even tell me about it. So that's why I always like to look at the imaging, not that I don't trust other doctors, it's just I've been trained to read MRIs. I've been doing X-rays for almost 30 years. And so I like to see what I'm working on before I start working on it. That way I'm not guessing. If people have imaging, they can call our office to schedule a consultation. We're in the office Monday through Friday. We're usually here at eight to 6 or 6:30. So we have pretty convenient hours for most people.
Mike Lee:
You're a lifelong learner. Dr. Troy, you've had extensive advanced training in disc and spine disorders. So could you explain to us what makes Vancouver Disc Center unique?
Dr. Troy:
Yeah, that's a question I get a lot. Do you know what got me into this? You know, I've been in practice for almost 30 years. What got me into this about 10 year ago, I hurt my back – I had two disc tears and I had three disc herniations. And when people come in and they, they hurt, I know exactly what they feel like. Because I was on the floor for hours, not able to move because of this disc issue. And that's what got me into nonsurgical spinal decompression. And so once I went all in with spinal decompression, I went back and started getting certified. One of the things I'm certified in is interpreting MRIs through the University of Stony Brook in New York. And so that has helped me a lot to look at people and see if they've got disc issues or what is going on with their spine because the mechanics of the spinal joints break down, especially as we get older.
And we've had traumas, either big traumas or little traumas. So the MRI interpretation has helped me. I went back and got certified in a technique, it's called flex distraction, which not a lot of our profession is trained in. This technique is a very gentle, very safe procedure that really can help restore function in patients who are hurting. Like these people who are hurting quite severely. If you do a traditional type of spinal adjustment on them, you can make them worse. So, with the technique that we use, it's super gentle. We go to patient tolerance (not overdoing it) so that they can get relief, and every year we get re-certified in spinal decompression. We have national certification through the International Disc Education Association. It's sponsored by different universities. So I've been certified by three different universities in non-surgical spinal decompression. I'm one of the advisory board members for our group nationally. We have over 200 clinics and we're in over 40 states. So we've got a big group that's out there trying to help people with back pain, avoiding procedures that may or may not work and that may have to be repeated if they fail mechanically. So that's kind of what makes us unique. And I always say that "love built the office, but service fills the practice" and we're here to serve people.
Mike Lee:
That's wonderful. Dr. Troy. So if anyone in our audience today wants to find out if IDD therapy, or disc hydration therapy is right for them, how do they get into your clinic at Vancouver Disc Center?
Dr. Troy:
Well, I would say, you know, get in the car and drive here first. That's probably a good thing. Or take your helicopter. But all joking aside, we have a person monitoring our website, so that you can live chat with us at Vancouver Disc Center and ask any questions you want. I get people from all over the country emailing or live to chat with us all the time about different things. And if, if somebody's in a different part of the country, I'll refer them to Disc Centers of America's website to see if they can find a doctor in their area.
But call our office. That's the best way. Call us at (360) 727-0455 and then they can come in for a consultation. And if they have imaging, I always tell patients to bring the imaging so we don't have to do follow-up visits. We can do it all on the same visit. That way people can understand what we do, how we do it, and how we might be able to help them. We're here to serve. And you know, I appreciate you letting me come on the show today to talk about what we do and, how we can help people who are suffering feel better and function better.
Mike Lee:
Thank you for helping people live more fulfilled, comfortable lives, Dr. Troy.
The next five callers at 360-727-0455 can come into Vancouver Disc Center for only $29 for a spinal decompression screening, which includes a review of your existing MRI or other spine imaging. A review of your current health state to determine if you are a qualified candidate for their cutting-edge healing technologies, all for just $29. If you are suffering from herniated discs, sciatica, low back pain, spinal stenosis, neck pain, numbness, or tingling in your hands, or if you know someone who is, please call 360-727-0455 and you can even chat live with the experts on the website, Vancouver Disc Center.com. Thanks so much again, Dr. Troy.
Dr. Troy:
Hey, you are welcome. I'm glad to be on the show today, Mike.
Mike Lee:
And thank you for joining us on Innovative Spine Care with Dr. Troy on 93.9 KPDQ
Radio Announcer:
Disc Centers of America. A call to us can change your life.