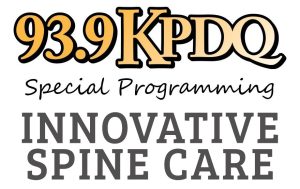 Specialized Spinal Disc Treatment –
Innovative Spine Care with Dr. Troy on 93.9 KPDQ #32
Mike Lee:
Welcome to Innovative Spine Care with Dr. Troy on 93.9. KPDQ Mike Lee here with Dr. Troy M. Dreiling, Doctor of Chiropractic who serves as the Vice President of the International Disc Education Association, here in the masterclass certificate on non-surgical spinal decompression, and he's triple certified in it.
Disc Centers of America Vancouver office is located at 3021 Northeast 72nd Drive, Suite 15 in Vancouver, Washington. That's just South of Fourth Plain Boulevard. Call 360-727-0455 or chat live with an expert from Vancouver Disc Center at their website, vancouverdisccenter.com.
And that's spelled as Vancouverdisccenter.com. How are you today, Dr. Troy?
Dr. Troy:
I'm great, Mike. I'm happy to be on the show today and spread the word about health and healing.
Mike Lee:
So glad to hear that, Troy. And can you tell us about mechanical breakdowns in the body? What exactly are mechanical breakdowns?
Dr. Troy:
Yeah, that's a good question. A lot of people probably are like, what is he talking about? But if you, if you really look at, at how people age, and you know, I had a good conversation last year at our national certification. So every year we get re-certified to do the techniques and methods that we do. And Dr. Zuck, he's actually an orthopedic surgeon. He's from New Jersey. Great guy.
I spent a lot of time talking to him, you know, and he told me, he said, you know, we weren't designed to live to be 70, 80, 90 years old, you know, and the average life expectancy is in the nineties, but he said most people died before they reached 40, you know, I think the turn of this century, the average age was around 42. So we never saw some of the mechanical breakdowns back then that we're seeing now.
Dr. Troy:
So this orthopedic surgeon, he does knee replacements, he does hip replacements, shoulder replacements, that's what he specializes in. And he said, you know, I'm gonna be in business for a long time because people are breaking down mechanically. So when I look at this, I look at the spine, the discs, the joints, and then really a lot of people don't understand this because you can't see it.
It's this magical power in the body that God gave you, but it's the central nerve system. And so, you know, if you mechanically break down, you're going to have a breakdown in the nerve system. So it's quite interesting to look at this and see what can we do to help people restore mechanics.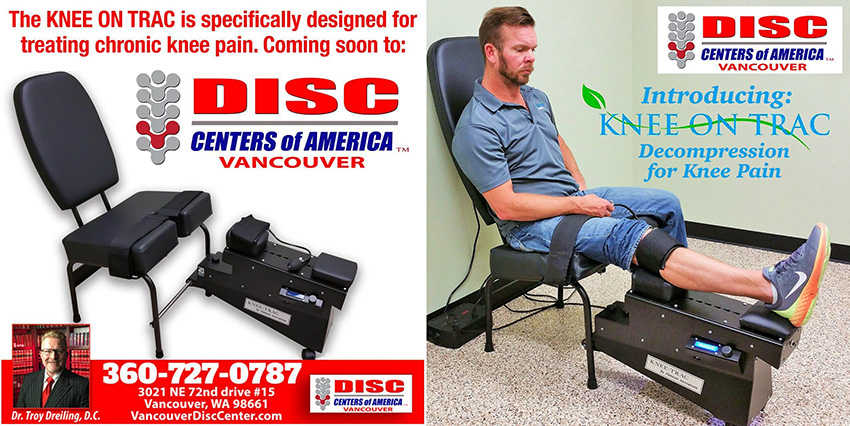 Mike Lee:
What are some of the effects and causes of this breakdown, Dr. Troy?
Dr. Troy:
Yeah, you know, I kind of want to take, you know, like a 10,000-foot view here and look at this thing, but you know, when, when people always go, I've never been hurt. They'll come into our office, they might have neck pain or back pain and you know, the people who have experienced severe back pain for the first time, it's a traumatic event for them. It's very stressful. But what people don't realize is, I always go, "You were born right?" And they're like, "Yeah", I'm like, "that is a traumatic event.
You know, depending on how long mom was in labor for. And then once you're born, you know, mom might have, or dad might have dropped you from the changing table, or you might have rolled off the bed when you're four months old or got dropped". So that's a traumatic event.
Dr. Troy:
And then you learn to walk and then you learn to fall and walk and fall. So you know, you're falling all the time. If you fell down like a toddler did, or you or I, we would be in trouble because we can't bounce back. So you get these micro-traumas and then you learn to ride a bike, you crash it, you play sports, you sit at a computer, you look at an iPad. So these are all little mini traumas that affect how joints in the bodywork.
And so the longer those dysfunctions go undetected, the bigger the problem becomes. So I always tell people there are two types of causes of this. One is repetitive sustained forces over time that the body can't adapt to. You know, some people can, you know, you look at football players, they take a hit, they get up no problem.
Dr. Troy:
But that repetitive trauma over time or that sustained trauma over time, that's one of the causes for mechanical breakdown. And then obviously the big traumas, the falls, the car crashes. So these are the things that can cause the the breakdown of joints in the spine, whether it's a knee, back, uh, ankle, hip, shoulder, or wrist. So it's this sustained tension and stress on joints over time.
And here's, here's what happens. Now we start seeing, people can start to see the tension. They go, I'm just tight. I'm just uptight. I feel tense. And then the longer there's tension or dysfunction in a joint movement, you may not feel it, it might not be acute pain, it might be just, I'm just tight. And then over time, just like if your car is out of alignment, the tire starts to wear down, and the joint starts to wear down.
Dr. Troy:
And it's not just the joint surfaces that glide, which that can break down, that's called degenerative joint disease. But then the ligaments get stressed. And so if a ligament's stressed, just like if you lifted weights and you started developing a callous on your hands from lifting weights, ligaments do the same thing. If you stress a ligament, it will build more ligament. If you stress a bone according to Wolf's law, you'll build more bone.
And then the more these ligaments start to thicken, or I wanna say build more, more ligament, then depending on where that's at, and if we look, you know, I specialize in spine and disc herniations, but if you look at how that can happen around the joints of the spine, now we start losing elasticity. The cartilage starts to break down and you get nerve root compression, no big deal, put pressure on a nerve, take it off, nerve recovers really quickly.
Dr. Troy:
But it's that sustained repetitive pressure or tension on the nerve that causes the nerve to corrode. Just like if you look at a battery terminal, there's corrosion on it over time, that's exactly what happens to the nerve system. And it's not, it's not an acute thing. So it's very subtle. So people don't quite understand, "but I didn't do anything", but usually what I see is things have been breaking down over a long period of time.
So now if we get nerve corrosion, the electron micrographs show that blood flow decreases to the nerve. So if you have decreased blood flow to the nerve, whatever that nerve controls, whether it's a muscle, it's your eyes, it's an organ, it's your heart, uh, it's it's your leg. That nerve starts to lose power and whatever it's controlling that system or organ or tissue that's being controlled by the nerve starts to weaken as well.
Mike Lee:
Interesting. Dr. Troy, so at Vancouver Disc Center, what methods do you use to help people restore the mechanics of the body?
Dr. Troy:
Well, that's a great question because you know, the traditional approach, somebody hurts, they go in, they write a prescription, and then they go home and then they try their prescription. If that doesn't work, they up the prescription or try a different prescription. And I see this all the time with people. They come in and they've been suffering for so long. So what do we do? What methods do we do to restore biomechanics in the body?
Well, the first thing is we look at the nerve system, the human nerve system. So there's, there's two branches of the nerve system. Well, you look at one that's the voluntary nerve system, and you can imagine what that is. That's things like, you wanna eat an apple, so you gotta chew that or you wanna throw a football, you, you choose to throw the football or you want to go for a walk or you want to climb, you want to type a letter on the computer or you want to go for a drive.
Dr. Troy:
Those are all voluntary nerve system activities that you control. And here's the thing is people don't realize there's an involuntary nerve system and that stuff you can't directly control. It's called the autonomic nerve system. And there's two branches to this. I'm gonna make it very simple for people, but there's the sympathetic branch and then there's the parasympathetic, which is the opposite of that. So sympathetic, you know, if a bear was chasing you in the woods, your sympathetic nerve system would kick in.
So you're gonna react to stress, your heart rate's gonna go up, you're gonna speed up breathing. Your bowel function is gonna slow down. You're not gonna stop and go to the bathroom when a bear's chasing you. So your autonomic nerve system shuts things down because it's fight or flight and flee. And then you have the parasympathetic nerve system, which balances out that.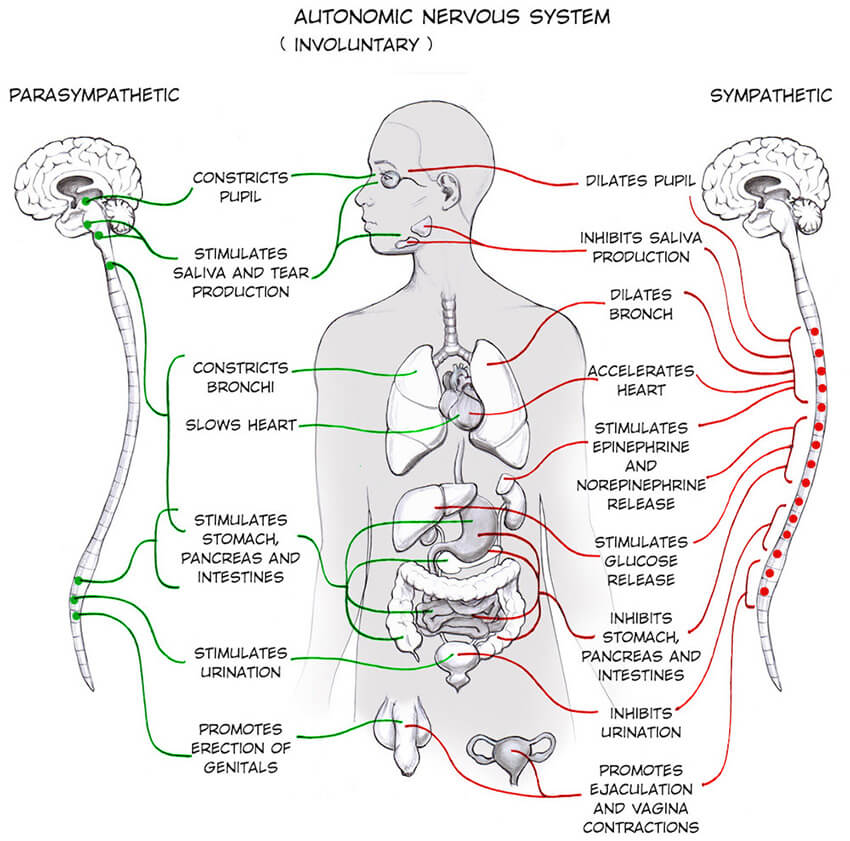 Dr. Troy:
So it's the opposite of what the sympathetic does. So this is, I call it the relaxation nerve. So what happens when you stimulate the parasympathetic system, it constricts your breathing system, It increases bowel function, it relaxes the body, it helps with recovery. But most people, I gotta tell you Mike, they're in sympathetic dominance. So, for example, if you look at high blood pressure, and that means their sympathetic nerve system is heightened.
So if you had somebody with high blood pressure outside of giving a medication, what would you do to drop the blood pressure? You would relax that sympathetic nerve system, the fight or flight system, and then you would stimulate the parasympathetic system.
So something for example, like deep breathing, relaxation, meditation type activity. And I've seen the graph, it helps reduce blood pressure, blood tension. If somebody's has irritable bowel syndrome, you would stimulate the parasympathetic nerves and relax the sympathetic nerves. So these are some of the methods that we use.
So we look at alignment first to see how the spine, and the nerve system is functioning. Because, if it were out of alignment, those two branches of the nerve system are gonna be out of balance. So eventually that's gonna lead to some sort of symptomatology.
Mike Lee:
Does it make your job more difficult if people have delayed intervention?
Dr. Troy:
You know, it, it does make my job difficult. If people come in and they've waited 10, 20, 30 years. I always tell patients, especially car accident patients. They'll come in, if they come in right away, Mike, within the first couple days, those are the ones that are gonna respond the best. The ones that waited two weeks, two months, nine months, 10 years, that's just, they've got 10 years of dysfunction built up in their body. So if we can get ahold of people, the sooner the better.
And I think one of the reasons people delay, well one you know, I have a lot of patients who come in with their spouse and if we talk to the wife we will find out he's a guy, he just doesn't take care of himself. And so a lot of people, they don't know how to take care of themselves and so they wait till they get so bad that now they, they're like forced to do it because they can't sleep, they can't go to work, and so they just wait, you know, for crisis to happen versus, you know, if the check engine light was on, you would go get your engine checked.
Dr. Troy:
You wouldn't just put a piece of tape over that engine light and keep driving it until the motor blows. But most people kind of has that mentality. They wait for the motor to blow and then they want you to fix it in a day. And you know, it doesn't work that way when you're dealing with this amazing body. So that's one of the reasons I think people wait so long. And the other is they don't know how to get the proper care.
You know, they've not been trained. Sometimes you gotta look outside the traditional mainstream medical model to get some alternative therapies that you can do. And I always tell patients, I said, the road to health is always under construction. If you're not working on your health, you know it's gonna diminish faster than it should. Just like when I was talking to the orthopedic surgeon, he says, these people are breaking down mechanically and they don't even know it.
Mike Lee:
You help out so many people at Vancouver Disc Center, Dr. Troy. So do you have any recent real-life cases that stand out in your mind?
Dr. Troy:
Yeah, I've got three cases if we have time to get these in today. But I had a guy, he's in his mid-forties construction worker, been doing construction for 20 years. He actually did some work at my house. He built the deck, he moved this fountain. He does great work. He's framed some stuff. He's done concrete and I really, really like him.
A few months back one of his coworkers got hurt lifting one of these stones and this guy couldn't even walk, he couldn't even work. So we started decompressing him. His coworker got great results and he ended up sending in his boss.
His boss came in earlier in the week, and he had low back pain of a nine out of 10. I've never seen this guy in so much pain because he usually should be young, spry, and flexible, but he came in at a nine out of 10 and I've treated him twice.
Dr. Troy:
The first day after his first visit, he came in, he was walking straight and I asked him, I said, Did you sleep better? And he said, Yeah, I got to rest for the first time in over a week since his back injury. So that was pretty amazing to see him. He had a 30% reduction in pain in just two visits, which might, It's amazing to see this because, and it's sustained because, you know, if he took some sort of pain reliever, once the pain reliever wears off, the pain's gonna come back.
So he had two good days of reduced pain without taking any medication, and I love seeing that stuff. I had another lady who, uh, she's a caregiver, she's in her mid-forties, low back pain, nine out of 10 she was having trouble sitting, sleeping. That's one of the big motivators for people.
Dr. Troy:
They can't sleep, so they'll come in. She was low energy, she was a nine out of 10 on her first visit. She came back for the second visit, and we talked to her. She was at six out of 10, so she had a 30% pain reduction first visit. She was sleeping better. And I see this stuff all the time, you know, and the longer the problems there, the slower the results are. So this other guy, Mike, he's, he'd been suffering for 20 years and I'm like, you poor thing. You know, he bought a new boat, and he was scared he wasn't gonna be able to go fishing on it. He's almost retired. He had low back pain, nine out of 10 radiating into his legs.
He came in and he says, I have degenerative disc disease. And that's very common. People over the age of 55, I was just reading this study that anybody over the age, of 55, a hundred percent of those people when they looked at MRI, whether they had pain or not, they had stenosis, which means they have narrowing of the canal that the nerves sit in.
Dr. Troy:
And this is Mike. He had degenerative disc disease stenosis. He was very lit up because every time he coughed he would get back pain and leg pain. So that tells me right there, you've gotta an inflamed disc. The nerves are inflamed. We've been working on Mike now for six weeks. He got his new boat. He went out fishing for 12 hours and his back pain is now a one. He went for 12 hours on the boat, didn't flare up once, leg pain's gone. He's super happy with what we do. And see, that's the reason I like to tell the story of what we do, Mike, so that people who are hurting and have tried different things come in and experience what we do and see if they're a candidate for decompression therapy or laser therapy or I call it alignment therapy.
Mike Lee:
That's wonderful, Dr. Troy. So what's the best way for people to get in for a consultation at Vancouver Disc Center?
Dr. Troy:
The best way is to, you know, call our office. We like to create a relationship with people. You'll give them the phone number, but call our office, talk to my team, you know if you have imaging, bring it with you, get it so I can look at it with you, and then we can really see what's going on under the hood. That way we'll do a consultation, we'll do an evaluation if we need to, and then we'll give you some recommendations if we think we can help you.
Mike Lee:
The next five callers at 360-727-0455 will get an opportunity to come into Vancouver Disc Center for just $29, and get a spinal decompression screening, including a review of your existing MRI or other spine imaging. A review of your current health state to determine if you are a qualified candidate for their cutting-edge technologies, offered us $29. If you call now and pay via check or credit card to reserve your spot.
Call 360-727-0455 to schedule if you are suffering from herniated discs, sciatica, low back pain, spinal stenosis, neck pain, numbness, or tingling in your hands. Or if you know someone who is call 360-727-0455 or you can even chat live with them on the website, vancouverdisccenter.com. That's vancouverdisccenter.com. Dr. Troy, thanks so much for improving our lives.
Dr. Troy:
Hey, you are welcome. I'm glad to be on the show today, Mike.
Mike Lee:
And thank you for joining us on Innovative Spine Care with Dr. Troy on 93.9 KPDQ
Radio Announcer:
Disc Centers of America. A call to us can change your life.