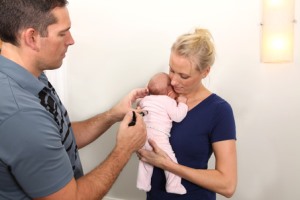 Babies can be safely cared for with chiropractic techniques that are subtle and gentle. Watch the video below to see our approach in taking care of babies.
For a free consultation give us a call at (360) 260-6903
---
Transcription
Hello, this is Dr. Troy, the Chiropractor for babies, your babies, and my babies.
People always ask me, "Is chiropractic safe for children and how old do they have to be to get them adjusted?"  I'll tell you, all three of my kids were born at home and they were adjusted within two minutes of being born. I was a little slow on my son. I got to him in two minutes, but my daughters they were both adjusted within a minute of being born.
You ask, "How can you adjust the baby?  Their bones are so fragile and tiny."  The reality is that the nerve system is protected by spinal joints, and yes, they're smaller and they're not fully developed, but they can still have misalignment, especially from the birth process. Depending on how long mom has been in labor or the complications of pregnancy, they can have spinal malfunction and nerve system disturbance early, early in life.  From womb to tomb, I say you can get adjusted or from the basket to the casket. Little babies, let me tell you some of the things that we've seen with babies.
One thing we've seen is colic.  It's very common to see babies with colic.  They are screaming all the time.  They don't want to eat.  They're fussy.  They won't breastfeed. They won't take a bottle.  The research has shown that within two weeks, listen to this, within two weeks, ninety-seven percent resolution of colic.  I can't tell you how many babies I've seen who have been adjusted and within one, two, three, four, five visits their colic disappears.
What else can we see with babies?  We can see allergy issues.  We can see constipation with infants now, just newborns will be constipated.  They'll be bloated.  That's one of things I always ask the parents, "Is the baby having bowel movements?"  There are certain maneuvers you can do to help stimulate the valves through the nerve system.  Sinus issues, babies not eating, not sleeping, these are all signs that they could have stress and tension on the nervous system which chiropractic, it's has proven and shown, to help in many cases.
What do we do for babies? There are a couple things we do.  One, we do an examination. There are a couple different techniques that we use for adjusting children. It's very light force.  You're doing just a light tapping and a lot of times you won't hear any noise. Sometimes we use an instrument. We will use an activator type of instrument. We're just put a light gentle pressure on the on the spine.  It just depends on what's going on with the child and what's needed.  Then, there are some other manual techniques that we use, like massaging the bowels or the stomach to get the bowels moving, in adjunction to doing the adjustment so that the body can work better.   
If you have a baby or you know somebody with a baby who is suffering and that's usually why they come in.  Ear infections, there's another one that's huge. We see ear infections big time because the typical approach is to put him on antibiotics.  There is a lot of information out there that says that might not be the best approach. Dr. Scott Mendelson, who said "How to raise a kid in spite of your medical doctor" wrote a book and in there it said that the first thing you should do if your child has an ear infection is to take them to a chiropractor.
How that works is the upper cervical area, neurologically, innervates the Eustachian Tube, which goes from your middle ear into the back of your throat. If that tube gets clogged, which could be from a nerve disturbance, then that's where this ear infection stuff occurs. We've seen great results with ear infections, sinus problems, breathing problems.
So, if you know someone suffering, if your baby is suffering, call our office.  This is Dr. Troy, the chiropractor for babies in Vancouver.  Call for a free consultation 360 260 6903.