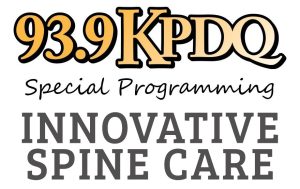 Back Pain Patients –
Innovative Spine Care with Dr. Troy on 93.9 KPDQ #22
Mike Lee:
Welcome to Innovative Spine Care with Dr. Troy on 93.9. KPDQ Mike Lee here with Dr. Troy M. Dreiling, Doctor of Chiropractic who serves as the Vice President of the International Disc Education Association, here in the masterclass certificate on non-surgical spinal decompression, and he's triple certified in it.
Disc Centers of America Vancouver office is located at 3021 Northeast 72nd Drive, Suite 15 in Vancouver, Washington. That's just South of Fourth Plain Boulevard. Call 360-727-0455 or chat live with an expert from Vancouver Disc Center at their website, vancouverdisccenter.com.
And that's spelled as Vancouverdisccenter.com. How are you today, Dr. Troy?
Troy, after more than 28 years, you've evaluated thousands of spine pain patients. What are some of the most common ways that patients present?
Dr. Troy:
That's a really good question, Mike. Good to be on the show today. Back pain is a pretty interesting thing for most people. And you know, it's funny because people who suffer back pain and then try to tell somebody who has never had back pain or experienced it what it is like, well they think they're making it up! But it's actually a real deal and it can be debilitating and really alter people's lives.
So, I've seen people present (show symptoms) in three different ways and it's interesting because some people will present just with back pain and they think they are coming in just with back pain. The other way they can come in, though, is they'll have back pain with a ridiculous "added" component like sciatica-type pain, leg pain, foot pain, or numbness and tingling. And then there's the other patient who just has leg pain or numbness and tingling in their feet but no back pain.
And so all three present, or show symptoms of various kinds, but the root cause in many cases is the same thing. So it's quite interesting that you can have somebody come in with just pain in their back, just pain in their leg, or they'll have both. It's kind of tricky sometimes to decipher exactly what's going on.
But that's the beautiful thing about working with Disc Centers of America Docs – we are trained and we study what the most common causes of back pain are, so we understand how to help people get their lives back without using a medication, without doing invasive procedures or surgery, which have side effects.
Mike Lee:
That's important. Dr. Troy, so many of us suffer from back pain to varying degrees, but what have you seen that motivates people to call you for help?
Dr. Troy:
Usually what we're going to see is people calling us when they can't walk, or they can't put their shoes on, they roll over in bed and it wakes them up from the pain. So now they're losing sleep. Or they can't work, or they can't pick up their grandkids, or they can no longer golf, or they can't walk their dog. Simple tasks like, "I can't even stand and cook in the kitchen".
So it is usually something that's affecting their quality of life, and that is usually what gets them to pick up the phone and call our office. And a lot of times they've been dealing with the pain for months and years and they've tried the same thing over, and over, and over again, and have not gotten any results. People are creatures of habit. That's why I like to get on the radio and tell people, "Hey, there is an alternative to what we do". And a lot of our patients, once they come to us, they'll tell us, "I wish I would've found you a year ago or five years ago or 10 years ago".
Mike Lee:
Dr. Troy, how does the mighty Google interfere with your approach?
Dr. Troy:
The mighty Google? You know, it's funny because people will come in the office all the time and they'll go, "Oh, it's just a pulled muscle". You know, meanwhile, they've got a weakness in their leg. They can't feel their foot, or they've got foot drop, their legs numb and tingly. Or when they cough and sneeze they get back pain or shooting pain down their leg. It always makes me laugh because a lot of people will come in self-diagnosing themselves and they'll say, "Oh, maybe it's just a pinched nerve". But nerves don't really get pinched – you don't have a little crab that goes in and pitches the nerve. The nerve actually gets compressed. And so Google's ok for general thing illnesses, but you really want to go to somebody who's trained and qualified to know exactly what's causing the problem so that we can get the proper diagnosis and then the proper treatment to go along with it.
Mike Lee:
Well, that's for sure, Troy. So how do you go about treating patients and what exactly is your approach?
Dr. Troy:
Well, the most important thing we do, is taking a history. First, we want to find out how long they've had their issue, whether it's neck pain, back pain, numbness, or tingling in their hands or legs. Then we want to see what caused it. Maybe it was a big trauma, or even little traumas – like people who'd have repetitive jobs, such as a UPS driver getting in and out of the truck all day and twisting and lifting boxes. Nothing huge but repetitive trauma to a joint over time.
Much like when your car tire is out of alignment, you're going to see repetitive, imbalanced wear over time on the tire, and the tire eventually is going to blow. So the discs and the spine are very similar to tires. If things are not functioning, if they're out of alignment, then things are going to blow.
Dr. Troy:
Our approach is to investigate what's going on. We will do an examination, then we do orthopedic tests, and neurological tests, to see how compromised the spinal cord and nerve system are. And then I always like to see imaging because a lot of people who've been suffering and have severe back pain, have already had an MRI, or two or three, and they've had an epidural, or a radio frequency ablation, where they burn the nerves, or they've been taking gabapentin or oxy drugs. Or they've even had spine procedures, surgical interventions, discectomies, Laminectomies, or even fusions.
We want to see what's going on. This helps us to best know what approach to treating them with. We use a medical device that's cleared through the FDA that was developed by a neurosurgeon, Dr. Sheely. His average patient had already had four back surgeries. So, he asked himself, "What am I going do with these people?" That led him to develop non-surgical spinal decompression, where you can decompress the discs, decompress the nerves to get, to get movement back into the joints, reduce muscle spasms, reduce nerve pain, and reduce swelling.
And so, we have a multifaceted approach. Sometimes we'll use laser therapy, or where we use bracing, we use supplementations, and it all depends on what the patient's suffering from. That is how we can best help them get the quality of life back that they're looking for.
Mike Lee:
Troy, you mentioned using supplementation – if so, what kind?
Dr. Troy:
Yeah, we do. We've been getting great results with a couple of formulas that were developed by a doctor who's been studying disc health and disc and spine joint problems for five decades. And he is a pretty amazing guy. One of the supplements is called DISCat, and I always say it stands for active treatment, but DISCat is a compound of supplements that, number one, helps the discs and the ligaments absorb nine times more water.
You know, as we get older, we start to become like a dried-out twig, if you will. So, the tissues and ligaments aren't as fluid, they aren't as flexible. And what DISCat does, is it helps the tissues absorb more water and it's also twice as effective at reducing inflammation as Tylenol, Advil, Nuprin, or aspirin, and it's not toxic to your liver.
Dr. Troy:
So that's one of the supplements we've been seeing really good success with. Another one that I just came across here, and this one's been around for a while, is this formula, but it's called "DISC and Joint Pain Relief". And when I did the research on it, I found it quite fascinating because inside the DISC and joint pain relief complex, there are herbs that are anti-inflammatory, and anti-analgesic and the herbs help with osteo better than using osteoarthritis drugs.
That's what the research starting to show now. And the beautiful thing about these two products, DISCat and the "Disc and Joint Pain Relief" complex is they are not prescription, they're not synthetic, and they are not going to be toxic to your liver. There are no side effects from these things if somebody was using opioids. These are an alternative to using opioids. So it is pretty amazing, some of the stuff that we can take to help rebuild and support health for our joints, our discs, our muscles, and our bones.
Mike Lee:
That sounds great. Dr. Troy. What are some of the recent cases you've seen at Vancouver Disc Center? Could you share some success stories with us?
Dr. Troy:
Yeah, I'll tell you this one lady came to see us. She's almost 80 and a super skeptical woman. She presented with back pain, at seven out of 10 on the pain scale, one hundred percent of the day. But she said most days she was feeling it daily at an average of 10 out of 10. But when she takes meds, she goes down to a three and her neck – she had neck pain, that was eight out of 10, one hundred percent of the day.
As I mentioned she was very skeptical, and also reported pain down her left leg, combined with numbness and tingling. We basically showed her what was going on, did her evaluation, took some imaging, and she started care and treatment with us. After her first treatment, I have to tell you, Mike, I asked her, "How did you sleep?" She said, "I slept better than I have in years", and I've been seeing her for about two weeks now. She now has about a 50% reduction in her pain symptoms. She's ecstatic. She is telling everybody about how wonderful decompression is and what we're doing in our office.
There is another gal that just presented, two days ago. But first, one of the techniques we use is called Cox Flex Distraction. And we're certified in that technique, which is a hands-on technique, but it's really very, very gentle. It's not like the traditional chiropractor visit where they, you know, kind of move you around real rapidly. It's a really slow technique. Well, this gal went to a doctor in California who was certified in the Cox Technique 15 years ago. This technique's been around for a long time. She told me she had a seven-millimeter disc herniation in her low back, and she said she was scheduled for surgery within six weeks – that's when they were scheduling her surgery.
So she had six weeks to sit around and suffer. Well, she actually found a doctor who does the technique that we do, and she said within the first two weeks she was able to feel her feet again. She had foot drop, but the foot drop went away. She said it took quite a while, but she pretty much got a hundred percent recovery. That was 15 years ago, but she came in just the other day and now she has a neck issue going on. She has a disc issue in her neck. So, she was looking for us for some help because she'd had such good long-lasting relief in the past from the techniques we use. Then she also sent her mom in who has issues in her arm; numbness, tingling, and weakness, so we're really looking forward to helping her.
But the last case I want to share is a patient of mine, he's been off and on for the last 10 years. He's kind of a cowboy if you will. And he always had back pain. He's fairly active. So he started complaining recently that his feet were going numb. He was also getting pain in his legs, his feet were numb, and he was doing traditional chiropractic for a long time. And I said, "You know, we really should evaluate you to see if you have a disc issue". And so, we did. We examined him, took some films, and he definitely has some disc issues in his lower back. And he was tough to get converted to decompression, but once he got on the table, it was amazing. He had a light switch go on, and his attitude changed.
He came back the next day, Mike, and he told me that the numbness and tingling in his foot had now subsided up to his knee. So, he lost half of the numbness and tingling in his lower leg after just one session on the table. And he's super ecstatic to continue with what we're doing in our office. It is so amazing the results that we see with the technologies that we have.
And that's why I like to, you know, share with our listeners that there are alternatives out there. So many people have been told they need surgery and, you know, they need shots. But I always say let's look at the alternative first. You know, Dr. Cremcheck says, "People who have back pain should do decompression first". He's an orthopedic surgeon. But as a surgeon he is saying before they have shots before they have surgery, they should do spinal decompression first.
Mike Lee:
That's wonderful, Dr. Troy. So, what's the best way for people to get in for a consultation at Vancouver Disc Center?
Dr. Troy:
The best way is to, you know, call our office. We like to create a relationship with people. You'll give them the phone number, but call our office, talk to my team, you know if you have imaging, bring it with you, get it so I can look at it with you, and then we can really see what's going on under the hood. That way we'll do a consultation, we'll do an evaluation if we need to, and then we'll give you some recommendations if we think we can help you.
Mike Lee:
The next five callers at 360-727-0455 will get an opportunity to come into Vancouver Disc Center for just $29, and get a spinal decompression screening, including a review of your existing MRI or other spine imaging. A review of your current health state to determine if you are a qualified candidate for their cutting-edge technologies, offered us $29. If you call now and pay via check or with a credit card to reserve your spot.
Call 360-727-0455 to schedule if you are suffering from herniated discs, sciatica, low back pain, spinal stenosis, neck pain, numbness, or tingling in your hands. Or if you know someone who is call 360-727-0455 or you can even chat live with them on the website, vancouverdisccenter.com. That's vancouverdisccenter.com. Dr. Troy, thanks so much for improving our lives.
Dr. Troy:
Hey, you are welcome. I'm glad to be on the show today, Mike.
Mike Lee:
And thank you for joining us on Innovative Spine Care with Dr. Troy on 93.9 KPDQ
Radio Announcer:
Disc Centers of America. A call to us can change your life.