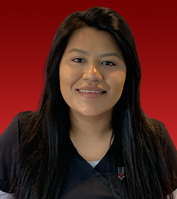 Leydi is one of our Spanish-speaking chiropractor assistants.
Leydi is very passionate and dedicated. She loves working with positive people that appreciate all things in life. She has been one of the Chiropractic assistants here at Zenaptic Chiropractic since 2014 as well as a Spanish interpreter. She enjoys greeting all patients as they come in and learning about their life outside of the office. She's learned a lot about chiropractic care and gets adjusted almost every day. She believes that chiropractic care should be taken more in to consideration because it has helped her in many ways.
Leydi's experience varies in many ways. She's worked as assistant teacher for about 2 years with kids of all ages and challenges. Leydi has also worked at the humane society as a camp counselor also working with kids and animals.
Leydi is comes from Mexican culture born here in Vancouver Washington. She graduated from Fort Vancouver high school and attended Washington State University. She adores spending time with her dad, nine siblings and, her two dogs. Leydi also likes dancing and spending time outdoors as well as helping others in any way possible.